Tomb Raider (PG-13)
Opens on Friday, March 15
Starring: Alicia Vikander, Dominic West, Walton Goggins, Daniel Wu
Lara Croft, the fiercely independent daughter of a missing adventurer, must push herself beyond her limits when she finds herself on the island where her father disappeared.
 Love, Simon (PG-13)
Opens on Friday, March 15
Starring: Nick Robinson, Josh Duhamel, Jennifer Garner, Katherine Langford
Simon Spier keeps a huge secret from his family, his friends, and all of his classmates: he's gay. When that secret is leaked, Simon must face everyone and come to terms with his identity.
 I Can Only Imagine (PG)
Opens on Friday, March 15
Starring: J. Michael Finley, Brody Rose, Dennis Quaid, Cloris Leachman
The inspiring and unknown true story behind MercyMe's beloved, chart topping song that brings ultimate hope to so many is a gripping reminder of the power of true forgiveness.
 7 Days in Entebbe (PG-13)
Opens on Friday, March 15
Starring: Rosamund Pike, Daniel Brühl, Eddie Marsan, Ben Schnetzer
Inspired by the true events of the 1976 hijacking of an Air France flight en route from Tel Aviv to Paris, and the most daring rescue mission ever attempted.
 Flower (R)
Opens on Friday, March 15
Starring: Zoey Deutch, Kathryn Hahn, Adam Scott, Dylan Gelula
A sexually curious teen forms an unorthodox kinship with her mentally unstable stepbrother.
 Allure (NR)
Opens on Friday, March 15
Starring: Evan Rachel Wood, Julia Sarah Stone, Denis O'Hare, Maxim Roy
A house cleaner meets a teenaged girl and convinces her to run away and live with her in secret.
 Josie (NR)
Opens on Friday, March 15
Starring: Sophie Turner, Dylan McDermott, Daeg Faerch, Kurt Fuller
Hank, a solitary man living a dull existence in the sleepy, Southern town raises eyebrows when he develops a questionable relationship with Josie, a recently transplanted high school student.
 Journey's End (R)
Opens on Friday, March 15
Starring: Paul Bettany, Sam Claflin, Stephen Graham, Asa Butterfield
Set in a dugout in Aisne in 1918, it is the story of a group of British officers, led by the mentally disintegrating young officer Stanhope, as they await their fate.
 Ramen Heads (NR)
Opens on Friday, March 15
Starring: Shôta Iida, Kumiko Ishida, Katsuya Kobayashi, Yûki Ohnishi
In 'Ramen Heads,' Osamu Tomita, Japan's reigning king of ramen, takes us deep into his world, revealing every single step of his obsessive approach to creating the perfect soup and noodles, and his relentless search for the highest-quality ingredients. In addition to Tomita's story, the film also profiles five other notable ramen shops, each with its own philosophy and flavor, which exemplify various different aspects the ramen world. Mixing in a brief rundown of ramen's historical roots, the film gives viewers an in-depth look at the culture surrounding this unique and beguiling dish. This is a documentary record of 15 months in the lives of Japan's top ramen masters and their legions of devoted fans.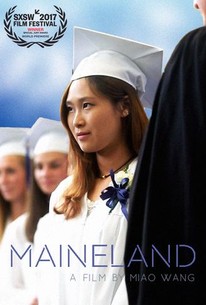 Maineland (NR)
Opens on Friday, March 15
Stella and Harry are affluent, cosmopolitan teenagers who are part of the enormous wave of "parachute students" from Mainland China enrolling in U.S. private schools. Shot over three years in China and the U.S., MAINELAND tells a multi-layered coming-of-age tale, following this buoyant, fun-loving girl and introspective boy as they settle into a boarding school in blue-collar small-town rural Maine. They come seeking a Western-style education, escape from the dreaded Chinese college entrance exam, and the promise of a Hollywood-style U.S. high school experience. But as their fuzzy visions of the American dream slowly gain more clarity, their relationship to home takes on a surprising new aspect.
 Demon House (NR)
Opens on Friday, March 15
Starring:  Zak Bagans, Jay Wasley, Billy Tolley
Paranormal investigator Zak Bagans documents the most authenticated case of possession in American history.
Synopsis by IMDB.