Tiger (PG-13)
Opens on Friday, November 30
Starring: Mickey Rourke, Janel Parrish, Marshall Manesh
A boxer is banned by the commission for refusing to back down from his beliefs. Through racial profiling and stereotypical threats, he does what any strong American would do, fight back. As a consequence, his legacy will be forever tied to his two biggest battles: one in the courtroom, the other in the ring.
 If Beale Street Could Talk (R)
Opens on Friday, November 30
Starring: KiKi Layne, Stephan James, Regina King, Colman Domingo
A woman in Harlem desperately scrambles to prove her fiancé innocent of a crime while carrying their first child.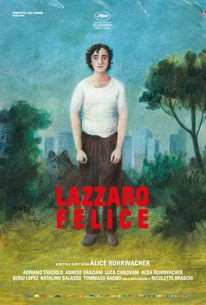 Happy as Lazzaro (PG-13)
Opens on Friday, November 30
Starring: Adriano Tardiolo, Agnese Graziani, Luca Chikovani
This is the tale of a meeting between Lazzaro, a young peasant so good that he is often mistaken for simple-minded, and Tancredi, a young nobleman cursed by his imagination. Life in their isolated pastoral village Inviolata is dominated by the terrible Marchesa Alfonsina de Luna, the queen of cigarettes. A loyal bond is sealed when Tancredi asks Lazzaro to help him orchestrate his own kidnapping. This strange and improbable alliance is a revelation for Lazzaro. A friendship so precious that it will travel in time and transport Lazzaro in search of Tancredi. His first time in the big city, Lazzaro is like a fragment of the past lost in the modern world.
 The Possession of Hannah Grace (R)
Opens on Friday, November 30
Starring: Shay Mitchell, Grey Damon, Kirby Johnson, Nick Thune
When a cop who is just out of rehab takes the graveyard shift in a city hospital morgue, she faces a series of bizarre, violent events caused by an evil entity in one of the corpses.
 Anna and the Apocalypse (R)
Opens on Friday, November 30
Starring: Ella Hunt, Malcolm Cumming, Sarah Swire, Christopher Leveaux
A zombie apocalypse threatens the sleepy town of Little Haven – at Christmas – forcing Anna and her friends to fight, slash and sing their way to survival, facing the undead in a desperate race to reach their loved ones. But they soon discover that no one is safe in this new world, and with civilization falling apart around them, the only people they can truly rely on are each other.
Synopsis by IMDB.