Murder on the Orient Express (PG-13)
Opens on Friday, November 10
Starring: Kenneth Branagh, Penélope Cruz, Willem Dafoe, Judi Dench
A lavish train ride unfolds into a stylish & suspenseful mystery. From the novel by Agatha Christie, Murder on the Orient Express tells of thirteen stranded strangers & one man's race to solve the puzzle before the murderer strikes again.
Daddy's Home 2 (PG-13)
Opens on Friday, November 10
Starring: Linda Cardellini, Mark Wahlberg, Mel Gibson, Will Ferrell
Brad and Dusty must deal with their intrusive fathers during the holidays.
 Genesis: Paradise Lost (PG)
Opens on Monday, November 13
Starring: Andrew J. Fabich, Danny Faulkner, Ray Comfort
If there is one part of the Bible that has undergone more scrutiny and abuse than any other, it is the very beginning-GENESIS. Both from within and without the church, assaults on GENESIS continue to question the Creation and ultimately the Creator. So, what exactly happened at the "Creation," at the "Beginning?" Creation Today and Seven Fold Films is proud to announce that for the first time ever, using stunning visual effects and the latest in scientific research, GENESIS will come to life right before your very eyes. We have heard the phrase "In the beginning" many times; now we get to see it on the big screen.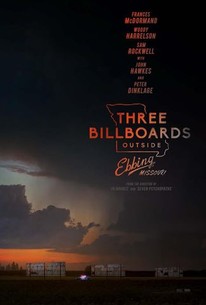 Three Billboards Outside Ebbing, Missouri (R)
Opens on Friday, November 10
Starring: Frances McDormand, Woody Harrelson, Sam Rockwell, Caleb Landry Jones
In this darkly comic drama, a mother personally challenges the local authorities to solve her daughter's murder, when they fail to catch the culprit.
 Thelma (NR)
Opens on Friday, November 10
Starring: Eili Harboe, Kaya Wilkins, Henrik Rafaelsen, Ellen Dorrit Petersen
A woman begins to fall in love, only to discover that she has fantastic powers.
Synopsis by IMDB.