The Maze Runner: The Death Cure (PG-13)
Opens on Friday, January 26
Starring: Rosa Salazar, Thomas Brodie-Sangster, Dylan O'Brien, Kaya Scodelario
Young hero Thomas embarks on a mission to find a cure for a deadly disease known as the "Flare".
 Please Stand By (PG-13)
Opens on Friday, January 26
Starring:  Dakota Fanning, Toni Collette, Alice Eve
A young autistic woman runs away from her caregiver in an attempt to submit her manuscript to a "Star Trek" writing competition.
 The Competition (NR) *
Opens on Friday, January 26
Starring: Thora Birch, Claire Coffee, Chris Klein
Lauren becomes the voice of a generation when, after one too many bad boyfriends, she launches a blog promoting "The PIG Theory." The PIG Theory insists you can enjoy all that romance has to offer, but only for six months. At this "Point of Infidelity and Guilt," you must break up before your mate becomes unfaithful. Lauren is a beacon of light for her followers, but Lauren's sister, Gena, is concerned. She introduces Lauren to the perfect man: Calvin and they hit it off so an idea strikes: A competition! Calvin will pick five friends who have been in a relationship for longer than six months, and Lauren will pick the enchantress to be their downfall. If three out of five cheat, Calvin must walk away. But if three out of five resist temptation, Lauren must shut down her blog and open her heart to Calvin. Their friends will be the challengers who determine their destiny!
Hostiles (R)
Opens on Friday, January 26
Starring: Scott Shepherd, Rosamund Pike, Ava Cooper, Stella Cooper
In 1892, a legendary Army captain reluctantly agrees to escort a Cheyenne chief and his family through dangerous territory.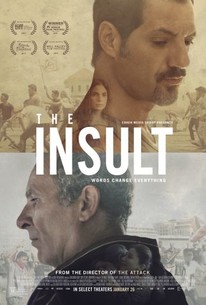 L'insulte (R)
Opens on Friday, January 26
Starring: Adel Karam, Kamel El Basha, Camille Salameh, Diamand Bou Abboud
In today's Beirut, an insult blown out of proportions finds Toni, a Lebanese Christian, and Yasser, a Palestinian refugee, in court. From secret wounds to traumatic revelations, the media circus surrounding the case puts Lebanon through a social explosion, forcing Toni and Yasser to reconsider their lives and prejudices.
 Hao ji le (NR)
Opens on Friday, January 26
Starring: Siming Yang, Changlong Zhu, Kou Cao
A city in southern China and a bag containing a million yuan draws several people from diverse backgrounds with different personal motives into a bloody conflict.
 Kickboxer: Retaliation (R)
Opens on Friday, January 26
Starring: Alain Moussi, Christopher Lambert, Jean-Claude Van Damme, Mike Tyson
One year after the events of "Kickboxer: Vengeance", Kurt Sloan has vowed never to return to Thailand. However, while gearing up for a MMA title shot, he finds himself sedated and forced back into Thailand, this time in prison. He is there because the ones responsible want him to face a 6'8″ 400 lbs. beast named Mongkut and in return for the fight, Kurt will get two million dollars and his freedom back. Kurt at first refuses, in which a bounty is placed on his head as a way to force him to face Mongkut. Kurt soon learns he will have no other choice and will undergo his most rigorous training yet under some unexpected mentors in order to face Mongkut in hopes to regain his freedom.
 Padman (NR)
Opens on Friday, January 26
Starring: Akshay Kumar, Radhika Apte, Sonam Kapoor, Amitabh Bachchan
Biography on Tamil Nadu activist Arunachalam Muruganantham, whose mission was to provide sanitary napkin's to poor women of rural areas. Who would use rag cloths or leaves during periods where use of sanitary napkins was rare. After he did not get fruitful results from his family and a medical college he approached, he decided to try it himself by making a uterus out of football bladder and filling goat's blood in it. He would roam around the whole day with the bladder, the aim was to check the absorption rate of the sanitary napkins made by him.
Synopsis by IMDB.
*Synopsis by VideoETA.