Just Getting Started (PG-13)
Opens on Friday, December 8
Starring: Glenne Headly, Morgan Freeman, Tommy Lee Jones, Rene Russo
A two-hander action comedy in the vein of Midnight Run, about an ex-F.B.I. Agent and an ex-mob lawyer in the Witness Protection Program having to put aside their petty rivalry on the golf course to fend off a mob hit.
 The Shape of Water (R)
Opens on Friday, December 8
Starring: Sally Hawkins, Octavia Spencer, Michael Shannon, Doug Jones
An other-worldly fairy tale, set against the backdrop of Cold War era America circa 1962. In the hidden high-security government laboratory where she works, lonely Elisa is trapped in a life of isolation. Elisa's life is changed forever when she and co-worker Zelda discover a secret classified experiment.
 The Disaster Artist (R)
Opens on Friday, December 8
Starring: Dave Franco, James Franco, Seth Rogen, Ari Graynor, Alison Brie, Zac Efron, Josh Hutcherson, Megan Mullally
When Greg Sestero, an aspiring film actor, meets the weird and mysterious Tommy Wiseau in an acting class, they form a unique friendship and travel to Hollywood to make their dreams come true.
  I, Tonya (R)
Opens on Friday, December 8
Starring: Margot Robbie, Allison Janney, Sebastian Stan, Bobby Cannavale
Competitive ice skater Tonya Harding rises amongst the ranks at the U.S. Figure Skating Championships, but her future in the activity is thrown into doubt when her ex-husband intervenes.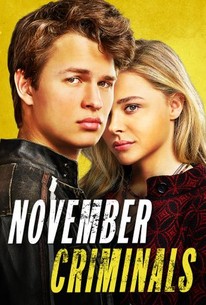 November Criminals (PG-13)
Opens on Friday, December 8
Starring: Chloë Grace Moretz, Ansel Elgort, Catherine Keener, David Strathairn
A teenager takes on his own investigation of a murder in Washington D.C.
 Big Sonia (NR)
Opens on Friday, December 8
Starring: Sonia Warshawski, SuEllen Fried, Caroline Kennedy, Regina Kort
In the last store in a defunct shopping mall, 91-year-old Sonia Warshawski – great-grandmother, businesswoman, and Holocaust survivor – runs the tailor shop she's owned for more than thirty years. But when she's served an eviction notice, the specter of retirement prompts Sonia to revisit her harrowing past as a refugee and witness to genocide. A poignant story of generational trauma and healing, BIG SONIA also offers a laugh-out-loud-funny portrait of the power of love to triumph over bigotry, and the power of truth-telling to heal us all.
Synopsis by IMDB.